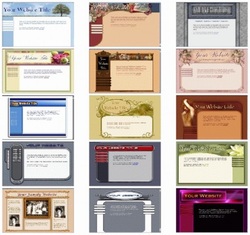 It occurred to me some time during the last century that it would be a good idea to put up a website. I did so and, at the time, thought it was brilliant – not that I could do a thing with it. Much like my hair, it required a professional. Everything was written in some kind of code.
Several years later, when it dawned on me that having an up-to-date website might be advantageous (rather than one that reflected my activities of a decade earlier), I again looked for someone who knew this mysterious code. I placed an ad on guru.com. "Wanted: A computer-type person who can put up a five-page website for me. I write books." Within three days I was deluged by dozens of emails. Soon, the offers – ranging from $699 to $4000 – numbered in the hundreds. I began to receive staticky Skype calls late at night. (Apparently, India is in a different time zone.) "What exactly do you want?" they asked. "SEO? Joomla?Slideshows?" I couldn't answer any of their questions. I despaired.
This was my first mistake: I assumed that other, more technical, people would be able to help me design my website. My second mistake came shortly afterward.
Realizing that I knew nothing about websites, I began to investigate. I discovered that there were free websites available everywhere, and that they were based on templates. What's more, these templates required no computer skills whatsoever. They were designed for people like me. (And they were used by people wanting to charge me $699 for one page.)
I began to look at templates. Oh, lord. There were thousands of them. I spent days looking at WordPress templates, Google templates, free templates of all kinds. My head hurt. This was my second mistake. I assumed that I could pick a template. I couldn't – there were too many of them, and none of them seemed appropriate for a writer.
Then the realization hit me. I was going about this all wrong. There were other authors in the world,
and they had websites
! All I needed to do was find one that I liked and copy the format.
I ended up not doing that, but looking at what other authors had done helped me to choose a template on Weebly, which I did in a less than an hour. (And it was free!)
This is what I did. I went to
http://www.smartauthorsites.com/
and looked at all their clients' websites until I found one that was appropriate for me. (I also browsed on the Author's Guild site and elsewhere, but Smart Author Sites was the most productive.) Then, I went to Weebly, which is the simplest website builder for the technically challenged, and located a template that was closest to the one I had found. From there it was easy. I imitated. (And, unless reinventing the wheel is your idea of fun, so should you.) This is what other authors do:
The first page should consist of a photo of you that shows your personality – according to your subject matter (children's book authors, smile! and look trustworthy; serious literary novelists, look deep). There should be a short, interesting bio. This page is also where you can put the latest professional news about yourself. (Upcoming publications, endorsements, speaking engagements, and so on.)


The second page is about your books: images of the covers, one paragraph descriptions, and where to purchase.


Page three is an excerpt from your latest work.


Page four can be a selection of your published writing – essays, short stories, if you have written them. Or page four can be an events calendar.


The fifth page is your blog.


"Contact us" comes last. You must always make yourself available to potential readers, agents, and Nobel Prize nominations.
Even if you have not yet been published, you need an author's website. At the very least, put up your first page (bio and photo), a blog, and a contact page. Unless it is a chapter from your forthcoming book,
do not post samples of your unpublished writing for readers to critique
!! There are forums for that sort of thing. Your website is where you must come across as a professional. Take yourself seriously, and others will as well.