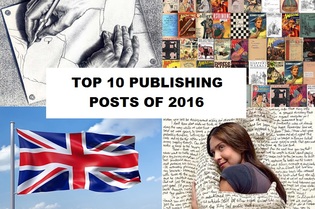 Last year I decided to review my posts to see which ones had attracted the most readers. (I posted them here:
Top 10 Publishing Posts of 2015
.)
Not surprisingly, the posts which garnered the most readers were about major publishers (notably
HarperCollins
) opening their doors to unagented writers. (HarperCollins' brief excursion into democratic operations has since been abandoned.)
This year, I encountered a problem when I simply looked at numbers of views per post. My
Free Contests
posts, and
Calls for Submissions
posts, had gotten so many views that they encompassed all of my Top 10. So, I moved down to the next category, which was
Agents Seeking Clients
. These also had gathered many thousands of views. (You can see all the agents looking for writers by clicking on the link.)
8 Literary Agents Seeking Horror NOW
, for example, had gotten 5,060 views.
In all fairness, I had to discount all of those posts as well, and move on to my next category, which had to do with marketing and promotion. Without further ado, here are those top ten posts, in descending order. I hope you will find them useful.
#10
8 Ways to Use Goodreads to Promote Your Book
(1310 views)
#9
How to Use Pinterest to Build an Audience (For Writers)
(1370 views)
#8
15 Magazines That Pay $500 or More
(1740 views)
#7
13 Paying Markets for Personal Essays
(1897 views)
#6
6 Science Fiction and Fantasy Publishers Accepting Unagented Manuscripts from Writers
(2074 views)
#5
Promoting Your Scifi or Fantasy Novel on Social Media
(2084 views)
#4
Top 10 Sites for Indie Authors
(2189 views)
#3
82 UK Literary Agencies Seeking Clients
(3249 views)
#2
175 Literary Magazines Accepting Reprints
(5294 views)
And my top post was (drum roll) ...
#1
272 Paying Markets for Short Stories, Poetry, Nonfiction
(7326 views)
Runners-up
Mega-List of Agents Looking for Memoirs (and other Nonfiction)
What a Trump Presidency Means for Writers
18 Paying Markets for Humor