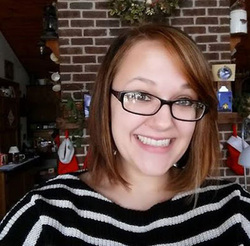 These two agents are actively seeking clients. Vanessa Robins (
Corvisiero Literary
) is seeking NA—all, especially humor; YA—gritty plots with diverse characters; Fiction—thought out thrillers, romance with strong female leads, heavily based science sci-fi, and sports-centric plots; Nonfiction—memoirs including coming of age, cultural/ethnic/sexuality, survivor, and humor themed. Bonus points for Medical Narratives (characters with medical illnesses and chronic diseases, or MS told through a medical professional's view point). Amelia Appel (
McIntosh & Otis, Inc.
) is most interested in literary fiction, mystery, thriller, historical fiction, science fiction and fantasy, and horror.
Note: For a comprehensive list of new and established agents actively seeking new clients see:
Agents Seeking Clients
___________________________________
Vanessa Robins
of
Corvisiero Literary
Vanessa is a writer, reader, and lover of food. From Lancaster, Pennsylvania—no, she's not Amish— she graduated from York College of Pennsylvania in May of 2015 with a degree in English literary studies and a minor in professional writing. Vanessa was Managing Editor of her college's undergraduate literary magazine for two years, where her love of literature thrived, and her passion for the publishing world was created. When she isn't reading or working, Vanessa can be found playing rec league softball (her team is called "Na Na Na Na Na Na Na Na Batman *and Women*," in case you were wondering), experimenting in the kitchen, knitting, or screaming at her favorite sports teams (go Eagles and Phillies!).
What she is seeking: NA—all, especially humor; YA—gritty plots with diverse characters; Fiction—thought out thrillers, romance with strong female leads, heavily based science sci-fi, and sports-centric plots; Nonfiction—memoirs including coming of age, cultural/ethnic/sexuality, survivor, and humor themed. Bonus points for Medical Narratives (characters with medical illnesses and chronic diseases, or MS told through a medical professional's view point). See our monthly MSWL blog post for more detailed requests.
Will not represent: PB, MG, Screenplays, and Erotica.
How to Submit: Please query Vanessa Robins by emailing query@corvisieroagency.com and putting "ATTN: Vanessa Robins-Query [Book Title]" in the subject line. Vanessa prefers if you write a brief query letter in the body of your email and attach a 1-2 page synopsis and the first five pages of your manuscript to the email in separate Word .doc files. Your query letter should include links to any social media or author websites.
____________________
Amelia Appel
of
McIntosh & Otis, Inc.
Amelia Appel is a graduate of Hamilton College. Prior to joining the
McIntosh & Otis
team, Amelia interned at HSG Agency and Writers House, where she was later an assistant. She joined M&O in 2014 as Elizabeth Winick Rubinstein's assistant and is currently seeking to build her own list as a junior agent. Twitter: @AmeliaLAppel
What she is seeking
: Amelia is looking to represent primarily adult fiction with some YA. For adult, she is most interested in literary fiction, mystery, thriller, historical fiction, science fiction and fantasy, and horror. Projects with a smart, distinct voice, a fantastic setting to jump into, and/or a witty protagonist are all up her alley. For YA in particular she's interested in stories with a savvy protagonist and a slightly dark tone that deals with serious coming-of-age issues well.
How to Submit
: To query Amelia Appel please email
AAquery@mcintoshandotis.com
. To submit, please email our agents at the email addresses listed below. To find out more about our agents and their interests please visit our Agents page. We ask that all text be pasted in the body of the email as outlined in the submission guidelines. Emails containing attachments will not be opened and will be automatically deleted due to security reasons.