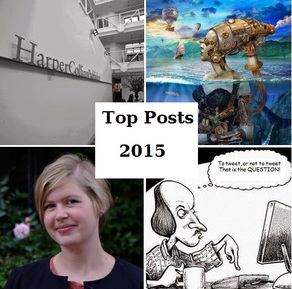 This is the first year I have looked back at my posts. (Normally, once they are up I simply move on to the next exciting idea.)
But, stats are important for various reasons. They tell us what people like to read. They also tell us what people need. Blog posts that provide answers to questions, that inform, and that explain are bound to be popular.
And for writers, anything that answers the question, "How do I get published?" will be warmly received.
(I promise that in 2016 I will continue to provide answers to that question.)
So, without further ado, here are my top ten posts - in reverse order.
______________________________________
#10
10 Awards for Self-Published Books
(1569 views)
#9
Should You Hire a Professional Book Cover Designer?
(1948)
#8
Publisher Pan Macmillan Accepting Unsolicited Manuscripts - No Agent Needed
(2129 views)
#7
Fantasy and Sci-fi Reviewers Accepting Self-Published Authors
(2616 views)
#6
2 New Agents Seeking Writers
(2630 views)
#5
23 Poetry Publishers Accepting Unagented Manuscripts
(2729 views)
#4
Speculative Fiction Magazines Accepting Submissions
(4127 views)
#3
2 New Agents Seeking Writers: Science Fiction, Fantasy, Nonfiction, Thrillers and more
(4727 views)
#2
234 Hashtags for Writers
(5759 views)
#1
HarperCollins Seeking Submissions - No Agent Required
(15,973 views)