Here are two new literary agents seeking clients. Danielle Burby (HSG Agency) is looking for young adult, mystery, women's fiction, and fantasy. Eric Smith (P.S. Literary) is looking for YA and adult sci-fi and fantasy, thrillers and mysteries; and in nonfiction, cookbooks, pop culture, humor, essay collections, and blog to book ideas.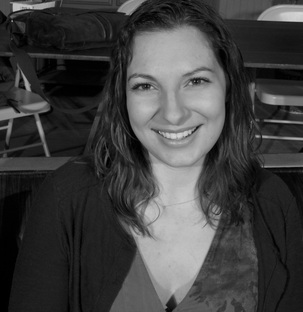 Danielle Burby of
HSG Agency
About Danielle
: Danielle started at Hannigan Salky Getzler in 2013 and now serves as a junior agent and the agency's foreign rights manager. She is actively building her client list. Danielle graduated from Hamilton College with honors and a double major in Creative Writing and Women's Studies. Before finding her home at HSG, she interned at Writers House, Clarion Books, Faye Bender Literary Agency, Dunow Carlson and Lerner, John Wiley and Sons, and SquareOne Publishers (along with stints as a waitress and a farmers' market vendor). Danielle was involved in way too many singing groups in college and is always up for karaoke. She also enjoys both tea and coffee, managing to defy the naysayers who claim they're an either-or thing. She is, however, distinctly a chocolate person. You can follow her on twitter at @danielleburby.
What she is seeking
: young adult, mystery, women's fiction, and an occasional fantasy. She gravitates toward stories with a strong voice and particularly enjoys complex female characters, narratives that explore social issues, and coming-of-age stories. Genres that appeal to her include contemporary YA, medieval fantasy, historical fiction, cozy mysteries, and upmarket women's fiction. She finds it hard to resist gorgeous writing and is a sucker for romantic plotlines that are an element of the narrative, but don't dominate it.
How to submit
: Email a query letter and the first five pages of your manuscript to dburby [at] hsgagency.com. No attachments.
___________________
Eric Smith of
P.S. Literary
About Eric
: Eric Smith is an associate literary agent at P.S. Literary, with a love for young adult books, sci-fi, fantasy, and literary fiction. He began his publishing career at Quirk Books in Philadelphia, working social media and marketing on numerous books he absolutely adored. Eric completed his BA in English at Kean University, and his MA in English at Arcadia University.
A frequent blogger, his ramblings about books appear on BookRiot, The Huffington Post, Barnes & Noble's Teen Reads blog, Paste Magazine's Books section, and more. A published author with Quirk Books and Bloomsbury, he seeks to give his authors the same amount of love his writing has received. Follow him on Twitter: @ericsmithrocks
What he is seeking
: Eric is eagerly acquiring fiction and nonfiction projects. He's actively seeking out new, diverse voices in Young Adult (particularly sci-fi and fantasy), New Adult, and Literary and Commercial Fiction (again, loves sci-fi and fantasy, but also thrillers and mysteries). In terms of nonfiction, he's interested in Cookbooks, Pop Culture, Humor, essay collections, and blog to book ideas. You can view his detailed manuscript wish list at http://ericsmithrocks.com/mswl/
How to submit
: Eric is currently accepting queries through PS Literary's Submissions page. Limit your submission to a query letter and do not send attachments (use text within the body of your e-mail). All queries to him should be directed to query[at]psliterary.com