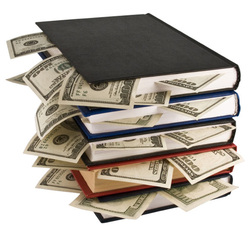 If you have the money to spare, and are building a marketing plan modeled after what a large publishing house would do, you will have to include paid review and promotional services. As an Indie author, you'll need to do your research first to discover which venues are worth the money. But if you choose wisely, and coordinate a paid campaign with a virtual book tour, you can see an immediate return for your expenditure.
You can use a couple of different strategies to promote your book, depending on whether you've placed it on multiple platforms or are using KDP Select. If you've gone the first route, and have print copies available, it may be worth it to pay for a Kirkus review. Kirkus is expensive, but it is the fastest way to reach a lot of crucial markets at once.
If you have decided to publish with Amazon's KDP Select, and want a good way to reach as many people as possible on your free days, there are several paid options open to you. Almost all of these are more effective than free services, though some are more pricey than others. (For a single book - not part of a series - you should stick to the cheaper options.)
No matter how you advertise, you will have to plan ahead of time to make sure reviewers are lined up before you begin a promotional campaign. It is always a good idea to coordinate your efforts, for example arranging talks at local libraries and bookstores, sending press releases announcing your upcoming release, and hitting every social media outlet and online reviewer so that your release makes a splash.
I've only listed below the services that authors have reported are the most effective for promoting their books. There are many, many more. For a full listing of paid sites see:
7 Strategies and 110 Tools to Help Indie Authors Find Readers and Reviewers
A word of caution: Be selective and research before you spend you money. Not every paid service is worth your hard-earned cash. If you are strapped, avoid paying for reviews altogether. There are plenty of reviewers who do not charge. Click on the link below for a list of nearly 300 reviewers who accept self-published books:
List of Online Reviewers Who Accept Self-Published Books
Related Post
:
Free Publicity for Your KDP Select Free Days
___________________
Kirkus Indie
Cost
: $425
Bottom Line
: You can get a lot of bang for your buck with a positive review. But a negative review from Kirkus is the kiss of death, so unless the review is glowing keep it private.
What they offer
: Kirkus is the most prestigious book review service in the industry, and one of the oldest. All books are read by professional reviewers, who give an
unbiased
review of 250–350 words. Reviews for Kirkus Indie can be kept private or published. Because their reviews are distributed to Google, Barnes & Noble, Baker & Taylor, and Ingram, they reach librarians and major media reviewers (e.g.
New York Times
). Your review may also be selected to be featured in the Kirkus email newsletter, which is distributed to more than 50,000 industry professionals and consumers. The Kirkus website gets more than 1.5 million page views monthly
How to submit
: You can request a review by clicking the
Get Started
link on the
author services page
. Provide as much information as possible about your book, choose whether you want to send Kirkus a printed (mailed) or digital (uploaded) submission, select either standard service (7-9 weeks) or express service (4-6 weeks) and pay for your review (standard service $425, express service $575).
More information
: Read an interview with Karen Schechner, Senior Indie Editor for Kirkus, about how self-publishers can best use their service
here
.
__________________
Net Galley
Cost
: $300 for one-week of availability. There's also an indie special at $399 to $599 for a six-month listing.
Bottom Line
: If you can afford it, Net Galley is worth the money. But make sure you have reviews lined up elsewhere well in advance. Net Galley does not guarantee reviews.
What they offer
: Net Galley offers ebook ARCs to reviewers. They work with publishers in Australia, Canada, the UK and USA. The service is widely used by well-trafficked review sites.
___________________
BookBub
Cost
: $40 - $1600, depending on the book's category and price.
Bottom Line
: BookBub is recommended if you are giving away books, or selling them at 99 cents, but only in their top four categories: Mystery, Romance, Historical Fiction, and Thrillers.
What they offer
: BookBub sends a daily email alerting its members to free and discounted titles matching their interests as they become available on retailers like Amazon's Kindle store, Barnes & Noble's Nook store, Apple's iBookstore, and others. The service is free for readers. With more than one million members, BookBub is the largest of the ebook promotion services. BookBub posts all of their pricing and sales statistics on a
convenient table
.
How to submit
: BookBub requires error-free manuscripts and professional covers. They will only feature full-length novels (150 pages minimum). Books must be free or discounted by at least 50% for a limited time only. Read their submission tips
here
.
More information
: Lindsay Buroker describes a positive experience with BookBub
here
. Michael R. Hicks reports on what a surprise BookBub's feature did for his book sales
here
.
____________________
E-Reader News Today
Cost
: $60 for a book priced below $2.99 or $150 for a book priced $2.99 and above. All payments are made through Paypal – no exceptions.
Bottom Line
: The price is not cheap, but authors have reported good results, depending on the genre. The demographics of ENT show that the highest percentage of readers are women between 35 and 55. Attractive covers are a must.
What they offer
: Your book will get sent out to over 475,000 Facebook fans and 150,000 email subscribers who are avid Kindle readers.
____________________
Kindle Nation Daily
Cost
: $30 - $160. Accepts Paypal and credit cards.
Bottom Line
: KND offers a wide variety of promotional services, which allows authors to customize. Best results are for free books.
What they offer:
KND has a list of 170,000 readers. The site provides tracking tools, which is useful for measuring the success of your promotion. KND also posts monthly stats so you can check to see which genres perform the best.
____________________
The Fussy Librarian
Cost
: $8 - $17, depending on the genre.
Bottom Line
: The Fussy Librarian is for discerning readers, which is an advantage for those who have their books professionally edited. The price is reasonable, although the chances of getting a significant number of readers from a single email is remote.
What they offer
: The Fussy Librarian sends 115,000 subscribers a daily email, which is where your ebook will be featured once. The number of subscribers in each genre varies - you can find the latest stats on the prices page on the right. Your book will be included in their searchable database for 30 days as part of your fee.
In order to be considered, your ebook must have:
10 reviews and a 4.0 rating on Amazon OR 10 reviews and a 4.0 rating on Barnes and Noble, 11 to 19 reviews and a 4.0 rating, or 20 reviews and a 3.5 rating. If you have 10 reviews split between Amazon's various stores - like US and UK - your book is eligible.
A price of $5.99 or less.
____________________
More information on paid promotions
:
Book Marketing Using Paid Advertising - A Study – Part 1: The Good News
Marketing Your Indie Book – A Rough Nautical Map In A Sea Of Advertising Options