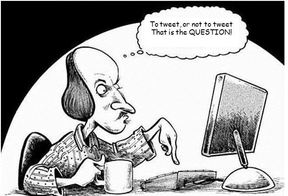 If you are on Twitter and aren't using hashtags, you are wasting a great resource.
Hashtags (#) are a way of grouping posts on similar topics. They can be used to track trends and topical news, such as the hilarious #myozobituary posts that abounded after a national Australian newspaper opened their obituary of famed author and neurophsyiologist Colleen McCullough with the words: "Plain of face and certainly overweight, she was nevertheless of woman of wit and warmth." (If you can't see anything wrong with this description of the person who wrote The Thorn Birds - and 23 other novels - then I suggest you search twitter for #everydaysexism.)
Hashtags can also be used to search for specific information and topics, which brings me to why you need to employ hashtags that are already in use. If you want to reach a broad audience, you really don't want to make up a hashtag. (I confess to having done that. Apparently, #voodoomedicine is some kind of rock group.)
Utilizing hashtags that already have a following means you have a built-in set of people looking for you. And, with the millions of people tweeting day and night, it is better to have people actually seeking your posts, than to hope that they will somehow find you in the din.
That being said, there are some rules you should follow for using hashtags:
Don't use more than three hashtags per tweet.




Don't #hashtag #several #words in a row in the body of your tweet.




Do not simply tweet invitations to read your book over and over again. You're a writer! Tweet something that is fun, interesting, informative, controversial, creative, and above all cool.



Before you use a hashtag, search Twitter to make sure it is appropriate for your tweet.
Here are some useful articles on hashtags for writers:
44 Essential Twitter Hashtags Every Author Should Know
The Ultimate List of Author-Specific Hashtags
The 12 Best Hashtags for Writers
__________________________________________
Writing and Connecting With Other Authors
#140Poem
#1K1H or #1K1HR (write one thousand words in one hour)
#amediting - posts from people who are editing
#amwriting - posts from people who are writing
#AmRevising - posts from people who are revising
#AuthorLife – writers sharing random stuff
#CopyWriting – advice about copywriting
#EditGoal
#Editing
#IndieAuthors
#nanowrimo - national novel writing month
#WordCount
#wip - work in progress
#WriteGoodNews
#Writer
#Writers
#WritersBlock
#WriteChat – all sorts of advice and information
#WriteGoal
#WriterWednesday (or #WW or ##WW) – a way to give a shout-out to writers / suggest authors to follow, or to share writing tips, and anything else to do with writers or writing
#Writing
#WriteMotivation
#WriteTip - writing advice
#WritersLife
#WritersRoad
#WritingBlitz
#WritingParty
#WritingPrompt
#WritingSprint
#WritingTip - writing advice
#wordcount
#WroteToday
____________________
Marketing
#author - good for self-promotion
#authors - also good for self-promotion
#bookmarketing - posts related to marketing books
#bookworm - for reviews
#editing
#emerging authors
#fictionfriday
#fridayflash flash fiction on a Friday
#followfriday or #ff - used on a Friday to suggest people to follow to your followers. (Don't just tweet handles, tell them why they should follow.)
#novels
#novelists
#poem
#poet
#poets
____________________
Publishing Industry
#AskAgent
#AskAuthor
#AskEditor
#BookMarketing
#EBooks
#ePub
#ePublishing
#GetPublished
#HowTo
#IAN or #IAN1 (Independent Author Networking)
#Indie
#IndieAuthor
#IndiePub (or #IndiePublishing)
#PromoTip
#Publishing
#Pubtip
#PubWrite
#querytip
#SelfPub
#SelfPublishing
#tenqueries – agents share the reasons why they do or do not request manuscripts
#VSS (very short story)
#WebFic
#WebLit
#WriteTip
____________________
Chats
(chats can be scheduled or ongoing)
#blacklitchat - Monthly chat featuring books by black authors. Day varies.
#LitChat - LitChat is for book lovers, readers & writers. 1-hour #litchat occurs M & W, 4 pm/EST, established January 2009 by @CarolyBurnsBass. http://litchat.com/
#MGlitchat - Thursdays at 9pm EST. The chat is organized by eight middle grade writers (and avid readers). More info: http://mglitchat.blogspot.com.
#ScreenwritingSaturday. Saturdays (all day) Moderator: @UncompletedWork.
#kidlitchat: Craft & business of writing for young people, board books up through YA. Topic or topics announced at the beginning of the chat. Moderators: @gregpincus, @bonnieadamson
Tuesdays: PST: 6 pm MST: 7 pm CST: 8 pm EST: 9 pm.
#writermoms - Women who write (and have children) can find other like-minded women through this ongoing chat.
#indiechat - every Tuesday at 9PM EST
#MemoirChat (every other Wednesday at 8 pm ET)
#PBLitChat (picture books only)
#PoetTues
#journchat
#kidlitchat
#litchat
#scifichat
#scribechat
#storycraft
#writechat
#PoetTues
#ScriptChat
#WriterWednesday (or #WW or ##WW)
#yalitchat young adult literature chat
#BBchat - BookBaby chat
#ZineChat
____________________
Connect By Book Genre
#Biopic
#Book
#Comedy
#Cookbooks
#Cooking
#Crime
#DarkFantasy
#Dystopian
#Erotica
#KidLitChat
#FanFic
#Fiction
#FlashFic
#Food
#Historical
#History
#HistFic
#HistNovel
#Horror
#KidLit
#Literature
#LitFic
#MGLit (Middle Grade Lit)
#MemoirChat
#Mystery
#NonFiction
#Novel
#Paperbacks
#Paranormal
#poetry
#Recipes
#RomanceWriter
#Romance
#Romantic
#RomanticSuspense
#RWA (Romance Writers of America)
#SCBWI (Society of Children's Books Writers and Illustrators)
#Science #Fiction
#ScienceFiction
#SciFi
#SciFiChat
#Short
#ShortStories
#Short #Stories
#ShortReads
#ShortStory
#SteamPunk
#Suspense
#TrueStories
#UrbanFantasy
#WomensFiction
#YA
____________________
Promotion and Connecting With Readers

#99c
#99cents
#Amazon
#AmazonKindle
#AmazonLikes
#AmazonPrime
#AmReading
#AuthorRT
#BestRead
#BookBuzz
#BookBuzzr
#BookGiveaway
#BookMarketing
#BookReview
#Books
#BookWorm
#Borrow
#eBook
#eReaders
#followfriday or #ff - used on a Friday to suggest people to follow to your followers. (Don't just tweet handles, tell them why.)
#fRead0 (that's a zero at the end – not a lower case oh)
#Free
#Freebie
#FreeBook
#FreeDownload
#FictionFriday
#FictionFridays
#FridayFlash
#FridayReads - tell people what you're reading
#FollowFriday
#FreebieFriday
#FreeReads
#GoodReads
#GreatRead
#IndieThursday
#IndieTuesday
#iPad
#KDP
#KDPSelect
#Kindle
#KindleBargain
#KindleBooks
#KindleeBooks
#KindleFire
#KindleTouch
#KindleTweet
#Kobo
#LendingLibrary
#LitChat
#MustRead
#MyWANA (Writer's community created by Kirsten Lamb)
#New
#Nook
#Novel
#Novelines
#Novelists
#Novels
#Paperbacks
#Poetry
#PoetryMonth
#Pubit
#Read
#Reader
#Readers
#Reading
#Reviews
#SampleSunday
#ShortReads
#Smashwords
#Sony
#Special
#StoryFriday
#StoryTelling
#TeaserTuesday or #TeaserTues
#GreatReads
#WhatToRead
#WriteQuote
#WeekendReader
#whattoread