Here are two new agents looking for clients. New agents are great for first-time writers. They are enthusiastic, eager to make sales, and don't have a mile-high slush pile. While they may be new as agents, they often have connections in the publishing world and work in established agencies.
____________________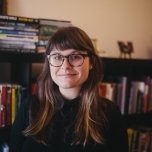 Monika Woods
of
InkWellAbout Monika
: Monika Woods began her publishing career working for Ellen Levine at Trident Media Group after graduating from the Columbia Publishing Course, where she worked with authors such as Marilynne Robinson, Ayana Mathis, Russell Banks, and Paul Harding. She joined InkWell Management in the Spring of 2013 to work with Kimberly Witherspoon and start building her own client list. She lives in Brooklyn with her husband and two cats and can be found writing about the book she just finished at www.booksijustread.com or on Twitter at @booksijustread.
What she is seeking
: Her interests include literary and commercial fiction, memoir, and compelling non-fiction in food, popular culture, science, and current affairs. Some of her dream projects include historical fiction about feminists, the Roma, and Maxim Lieber, darkly suspenseful stories (both true and made-up) with unreliable narrators, anything about Poland and its history, nonfiction that is creatively critical, and above all, novels written in a singular voice.
How to submit
: Query Monika at monika [at] inkwellmanagement.com. Please send both a query letter along with a short writing sample (1-2 chapters) in the body of your email, and she'll be in touch if she would like to read more! Monika is very interested in representing writers from all over the world.
___________________

Linda Scalissi of 3 Seas LiteraryAbout Linda
: Linda Scalissi is excited to join
3 Seas Literary
as their newest agent. Not only has reading been a lifetime passion, but she has a strong background in professional proofreading, editing and sales. She's looking forward to receiving submissions and building strong, long-term relationships with her clients. She resides with her husband, two dogs and four rescue goldfish.
What she is seeking
: Linda is interested in representing authors of women's fiction, thrillers, young adult, mysteries and romance.
How to submit
: E-queries only: queries [at] threeseaslit.com. No attachments; paste everything into the email. The subject line should begin as follows: "QUERY FOR LINDA: (The title of the manuscript or any short message you would like to relay to us should follow.)" Please email the first chapter and synopsis along with a query letter. Also, be sure to include the genre and the number of words in your manuscript, as well as pertinent writing experience in your query letter. Read submission guidelines
HERE
.