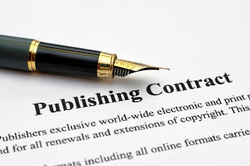 It is becoming increasingly rare to find publishing houses that will accept manuscripts directly from writers.
But in some genres, notably science fiction, you don't need an agent to get published. TOR is a major player in the sci-fi scene, with a large distribution network. (If you are a science fiction writer, don't be shy. Go ahead and submit your story.) If you love dogs and cats, or the great outdoors (and can take pictures), consider Willow Creek. Poets - check out Blaze.
Willow Creek Press
publishes 25 titles per year. This press specializes in gift books, cookbooks, and nature books. Read full submission guidelines
HERE
. (
Note: Does not accept electronic submissions
.)
What they are looking for
: "Willow Creek Press is a publisher whose primary commitment is to publish books specializing in nature, outdoor and sporting topics, gardening, wildlife and animal books, and cookbooks. We also publish nature, wildlife, fishing, and sporting calendars. Personal memoirs, children's books, and manuscripts dealing with limited regional subject matter may be considered, but generally stand little chance of acceptance."
CQ Press
is an imprint of Sage, an academic publisher. It focuses exclusively on political science, journalism, and reference. Prospective authors should submit a complete proposal. (Even if you don't write political science texts, take a look at their proposal outline
HERE
. It's quite useful for any nonfiction manuscript.)
What they are looking for
: "CQ Press is your first source for information on politics, policy, and people. We are the leading publisher of books, directories, subscriptions, and Web products on American politics, federal and state government, American institutions, campaigns and elections, current events, and world affairs. Our content is known for its objectivity, breadth and depth of coverage, and high standards of journalistic and editorial excellence."
Forge and TOR Books
publish science fiction and fantasy novels. They're both imprints of Tom Doherty Associates, which is part of Macmillan-so it's a major player that accepts direct submissions. Submission guidelines are
HERE
.
What they are looking for
: "Tor.com welcomes original speculative fiction short stories and poetry. We define "speculative fiction" broadly, including SF, fantasy, horror, alternate history, and related genres. We want our stories to represent the full diversity of speculative fiction, and encourage submissions by writers from underrepresented populations. This includes but is not limited to writers of any race, gender, sexual orientation, religion, nationality, class, and ability, as well as characters and settings that reflect these experiences. We're particularly interested in stories under 12,000 words. We will consider stories that are slightly longer than 12k, but we really must put our foot down at the "novelette" mark—in other words, we will not read anything over 17,500 words."
BlazeVOX [Books]
publishes poetry, fiction, and literary criticism. With an emphasis on poetry, prospective authors can submit via e-mail or an online contact form. Submission guidelines are
HERE
.
What they are looking for
: "Our books push at the frontiers of what is possible with our innovative poetry, fiction and select non-fiction and literary criticism. Our fundamental mission is to disseminate poetry, through print and digital media, both within academic spheres and to society at large. We seek to publish the innovative works of the greatest minds writing poetry today, from the most respected senior poets to extraordinarily promising young writers. We select for publication only the highest quality of writing on all levels regardless of commercial viability. Our outlets of publication strive to enrich cultural and intellectual life, and foster regional pride and accomplishments."