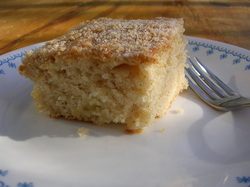 Doesn't this look good?
Apple Streusel Cake

This is a light, moist cake with a crunchy, cinnamon topping. It is very easy to make. The trick is to slice the apple pieces very thin so they cook completely through. The best apples to use for this recipe are mealy apples (not Granny Smiths). Store at room temperature. Delicious warm.


1 1/2 cups flour
2 1/4 tsp baking powder
1/2 cup sugar
1/2 tsp. salt
1/2 tsp cinnamon
1 large egg
3/4 cup milk (skim is fine)
1/4 cup oil
1 medium sized raw apple, peeled, cored and finely chopped

STREUSEL TOPPING:

4 tbsp sugar
2 tbsp flour
1 tbsp butter
1/2 tsp cinnamon

Spread finely chopped apples in a single layer over the bottom of a well greased 8 x 8 inch glass pan. Mix flour with baking powder, sugar, salt and cinnamon. Beat egg, milk and oil and pour into dry ingredients. Mix. In a separate bowl mix together the streusel topping ingredients to make a crumbly mixture (use your fingers) and sprinkle on top of the batter. Shake the pan slightly so the streusel topping is distributed evenly over the top of the cake. Bake in a 350 degree oven approximately 25 – 30 minutes or until the top is golden brown.