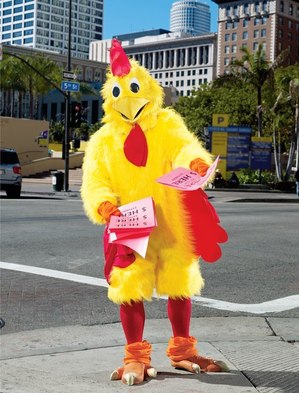 Getting reviews is the bane of the self-published author's existence. Without access to major media channels, self-published authors have to rely on contacting individual reviewers, which is roughly the equivalent to handing out flyers in malls.
In spite of the fact that contacting individual reviewers is time-consuming, arduous, and less efficient than, say, a review in the
New York Times
, it is probably the best way to get reviews. Book bloggers will more likely respond to an email requesting a review than a giveaway, or getting a flyer from a chicken. (Paid services, of course, will always generate reviews, but these are, for the most part, editorial reviews, which won't increase your ratings.)
Below is an article that summarizes all the different strategies you can employ for getting reviews.
Related posts
:
Top 12 Sites for Finding Reviewers
List of Online Reviewers Who Accept Self-Published Books
______________________________________
The Indie Author's Guide to Customer Reviews
By Daniel Lefferts
Source
:
Book Life
, Nov 24, 2014
The self-publishing revolution has taken place, in large part, online, with readers discovering books and connecting directly with indie authors through sites like Amazon, Goodreads, Barnes & Noble, Wattpad, Smashwords, and more. In addition to book blogs, online book clubs, and online advertising, one of the central means by which readers learn about self-published books is the customer review. Reviews offer (ostensibly) unbiased commentary about a book, and while positive reviews are undoubtedly more desirable than one-star pans, having a mixed bag of reviews is better than having none at all.
"Along with the cover image, a book's aggregate review score creates the first impression on Amazon" says Aaron Cooley, who self-published his novel Shaken, Not Stirred. "But the total number [of reviews] is important, too."
But if customer reviews are, by their very nature, customer-generated, what can authors do to get more of them? Without resorting to "sock-puppet" reviews—that is, reviews written by the book's author using an alias—how can authors turn that discouraging "no customer reviews yet" message into a smattering of star ratings and commentary?
Blogger Outreach
It's common for indie authors to reach out to book bloggers to pitch their books for review. If you've succeeded in getting your book reviewed—or you're still shopping for the right blogger—ask the blogger if they're willing to post their review to Amazon or Goodreads, in addition to their own blogs.
Jane Litte, owner of the popular romance blog
Dear Author
, says that, when it comes to posting reviews to other websites, "Each reviewer has their own practices and habits. Personally I post a short review of books I've read at Goodreads."
"You can be sure that the Amazon top customer reviewers put a lot of thought and energy into their reviews."
Others will post to Amazon, Barnes & Noble, and other sites, such as Shelfari. On
Indie View
, a site that hosts a list of bloggers and writers who review self-published books (for free), reviewers specify which sites they'll post their reviews to.
Paid Review Service
s
It's equally common for indie authors to purchase reviews through paid review services. These sites, such as
BlueInk Review
and
Self-Publishing Review
, will often post their reviews to commerce sites such Amazon, or will allow authors to repost reviews to those sites.
BlueInk Review
, for instance, offers
detailed instructions
for uploading a review to the "Editorial Reviews" section of book's Amazon and Barnes & Noble pages. Customers of
Self-Publishing Review
can
request to post their reviews
to the "Editorial Reviews" sections of those sites, along with several others, as well.
Editorial Reviews vs. Customer Reviews
Whether you're pitching a book blogger or purchasing a review from a paid review site, it's important to understand each reviewer's reposting policy. Some bloggers (such as those listed on Indie View) will post their reviews to Amazon, Barnes & Noble, and Goodreads as customer reviews, which generate star ratings and contribute to the overall rating of your book. Other reviewers, such as BlueInk Review and Self-Publishing Review, repost their reviews as "Editorial Reviews," which do not generate star ratings. Both types of reviews are, of course, valuable, but it's important to know what you're getting with each. Indie authors in search of star ratings may have to supplement editorial reviews by taking alternate approaches.
Approaching Reviewers on Amazon
Reviews from Amazon customers can be helpful to indie authors trying to drum up conversation around their books. But a review from a Top Customer Reviewer—identified by a small tag next to their name in their reviews, and
also listed here
—can be especially beneficial. These are reviewers that Amazon has singled out for being highly prolific and helpful in their feedback. Lauren Pepper Wu, writing for the self-publishing blog The Creative Penn, recommends
pitching top reviewers
. "You can be sure that the Amazon top customer reviewers put a lot of thought and energy into their reviews," she writes. And since they've "proven themselves to be fast…[they] will therefore most likely have a quick [turnaround]."
Top reviewers typically have a profile page containing their contact information, details about their background, and reading preferences. Be aware that some reviewers do not wish to be pitched (and will state as much on their profile), and that not every top reviewer reviews books.
Finding a top reviewer to contact can be time-consuming. In addition to wading through the Top Customer Reviewer list, indie authors can also look at customer reviews of books comparable to their own (whether in terms of genre or subject matter) and see if any top reviewers have reviewed them.
Getting Reviews on Goodreads
There are two main ways to tap into Goodreads's avid user base and increase your chances of getting reviewed on the site. If you join the
Author Program
, you'll have the ability to host a giveaway. [
Note: Giveaways are for print books only
.] According to Goodreads, "40,000 people enter Goodreads giveaways every day" and "an average of 825 people enter to win any given giveaway." Authors typically give away advance copies of their books, and can choose how many books to send out (the site recommends 10 minimum). In your
giveaway announcement
, you can also include a message requesting (tactfully, of course) that winners of the giveaway review the book on the site. (There is, of course, no guarantee that they will.)
Another way to reach readers on Goodreads is by joining groups. If, let's say, an indie author has written a historical novel set in medieval times, she can join the Ancient & Medieval Historical Fiction group and contribute to its discussion boards. As with other online social environments, such as Twitter, it's best to communicate with other members organically; spamming users about a book is unlikely to generate reviews, and it may result in removal from the group. "Many groups have rules for how authors can or cannot participate," the site says.
Ultimately, whether online or off, indie authors engaging with other book-lovers about their titles and asking for feedback is the most direct, and perhaps most satisfying, way to get reviews. "I'm always asking people who tell me they love [my] book to please also post a review," Cooley says.