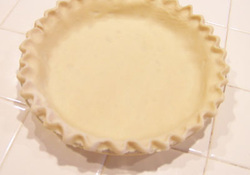 This recipe is from the 1946 edition of the Woman's Home Companion Cookbook, which my mother received as a wedding gift in 1950. I have made countless tender, cholesterol-free, melt-in-your-mouth pie crusts with this recipe - in less time than it took to write it down. (Makes one crust. Double for two.)

1 cup flour
1/2 tsp salt
1/4 tsp baking powder
1/3 cup safflower oil
3 tablespoons cold water

Sift flour, salt and baking powder together in a bowl. Beat oil and cold water together with a fork until well blended. (I do this in a measuring cup.) Add liquid to solid mixture and mix with a fork just enough to blend. Do not overmix. Form into a ball and place on a sheet of wax paper. Flatten slightly with your palm. Place another sheet of wax paper over the dough and roll until it is just larger than your pie pan. (Do not attempt to roll out the crust on a floured board. It will stick.) Carefully, peel back the top sheet of wax paper. Invert the crust (with bottom sheet of wax paper) over the pie pan. Gently peel back the remaining sheet of wax paper. Assemble in pie pan and bake. No chilling is necessary, however you can store the crust in the fridge once it has been rolled out and formed in its pie pan. If you chill the dough before rolling it out, it tends to be too stiff.

I don't know of an easier, healthier, or more fool-proof method of making a pie crust.