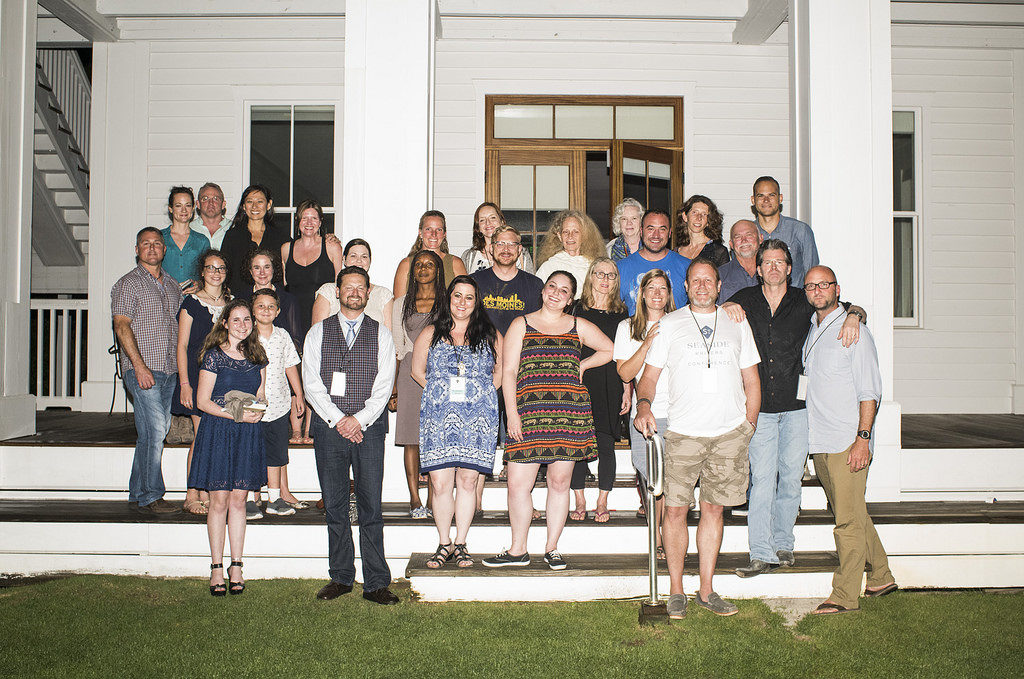 June is a great month for writing conferences. It's vacation time for anyone attending school, and with the warm weather and free time, conferences proliferate. (Keep an eye on July!)
I've said it before, and I will say it again - conferences are not only the best way to meet agents, get tips from other writers, and learn about the publishing industry, they make you feel like a
writer
. We all need community, and this is how we, as writers, get the necessary incentive to keep writing.
If you miss your perfect conference this year, you may be able to catch it next year. Many conferences are annual events. Planning ahead may also lower the cost, as quite a few conferences offer scholarships and discounts for early bird registrations. (Note: I include conferences that are sold out so you can plan ahead for next year!)
To see a full list of conferences organized by month, as well as links for finding conferences in your area see:
Writing Conferences
.
______________________
Iowa Summer Writing Festival
. June- July, 2017, Iowa City. Featuring 138 workshops with 60 instructors.
Registrations for weeklong and weekend workshops are accepted on a first-come first-served basis. Class size is limited to twelve. It is a good idea to register early.
Bear River Writers' Conference
. June 1 - June 5, 2017: Camp Michigania on Walloon Lake, near Petoskey, Michigan. Workshops in poetry, fiction, and creative nonfiction, as well as readings, discussions, nature walks, and time to write. The faculty includes Laura Kasischke, Jamaal May, and Richard Tillinghast; fiction writers Nami Mun, Antonya Nelson, and Thisbe Nissen; and creative nonfiction writers Jerry Dennis, Thomas Lynch, and Sue William Silverman.
Clarksville Writers Conference
. June 2 - 3, 2017, Clarksville, TN. Two days of writing workshops and presentations, a keynote banquet with the authors, and manuscript consultations.
Sundress Academy for the Arts Summer Fiction Writing Retreat
. June 2 - 4, 2017: Knoxville, Tennessee. This year's retreat will focus on generative fiction writing and include two break-out sessions "Transmogrification: Magic and the Body" and "The Most Weird and Practical Dream: Advice on How to Communicate With Strangers, or, Everything I've Learned in the Last 20 Years Cut Down to 2 Hours," plus discussions on kicking writer's block, publishing, and more.
Spring Writing Intensive
. June 3, 2017, Annapolis MD. "In this one-day writing intensive, participants will have the opportunity to join other writers for a day devoted to writing instruction, discovery, and inspiration. Working under the guidance of award-winning authors, attendees may select four workshops from seven choices. By choosing from a menu of craft options that will include memoir, fiction, nonfiction, and publishing advice, participants will select the subjects that address their most challenging writing issues and will leave armed with new skills, understanding, and motivation. All levels are welcome." Tuition: $175.
Indiana University Writers' Conference
. June 3 - 7, 2017, Indiana University in Bloomington. The conference features workshops in poetry and fiction, as well as craft classes, readings, and panels for poets, fiction writers, and nonfiction writers. The cost of the conference is $375, or $625 with a workshop. Lodging and meals are not included; lodging is available in campus dormitories and in the campus hotel. The registration fee is $30; general registration is first come, first served. To attend a workshop, submit 8 to 10 pages of poetry or 15 to 25 pages of prose; admissions are made on a rolling basis.
Bread Loaf Orion Environmental Writers' Conference
. June 3 - 9, 2017: Ripton, VT. The Bread Loaf Orion Environmental Writers' Conference is a week-long writers' conference designed to hone the skills of people interested in producing literary writing about the environment and the natural world. The conference is co-sponsored by the Bread Loaf Writers' Conference, Orion magazine, and Middlebury College's Environmental Studies Program.
Application deadline: February 15, 2017
.
Bread Loaf Translators' Conference
. June 3 - 9, 2017: Ripton, VT. The Bread Loaf Translators' Conference includes workshops in poetry, fiction, and creative nonfiction, as well as lectures, craft classes, meetings with editors and agents, and readings by faculty and guests.
Application deadline: February 15, 2017
.
Yale Writers' Conference
. June 3 - 13, 2017: New Haven, CT. Visiting Faculty: Amy Bloom, Michael Cunningham, Lev Grossman, Claudia Rankine, Edmund White, MG Lord, Sarah Darer Littman Resident Faculty: Kirsten Bakis, Je Banach, Sybil Baker, Marc Fitten, Trey Ellis, and more. Director: Terence Hawkins.
Application deadline: April 30, 2017
.
Odyssey Writing Workshop
. June 5 - July 14, 2017: Manchester, NH. Since its inception in 1996, Odyssey has become one of the most highly respected workshops for writers of fantasy, science fiction, and horror. Top authors, editors and agents serve as guests, and 59% of graduates go on to professional publication.
Application deadline: April 8, 2017
.
West Chester University Poetry Conference
. June 7 - 11, 2017: West Chester, PA. The conference offers poetry workshops and features a keynote speaker, critical seminars, panel discussions, faculty readings, and an opportunity for participants to have conferences with workshop leaders and resident poets.
Writers @Work Conference
. June 7 - 11, 2017, Alta, Utah. The conference features workshops in poetry, fiction, and creative nonfiction, as well as craft lectures, panel discussions, hikes, and time to write. Choose one of three intensive workshops, conducted by our award-winning faculty, and held at Alta Lodge, an intimate setting in the breath-taking Wasatch Mountains, where writers of all backgrounds gather to share ideas, craft, and fine writing. The cost of the conference is $730, which includes tuition and all meals. Individual consultations with an agent or editor are available for an additional $50. Lodging is available at the Alta Lodge, and ranges from a total of $115 for a shared dorm to $285 for a private room.
Registration deadline is May 31
.
Books-in-Progress Writers Conference
, June 8 - 10, 2017, Lexington, KY. The conference will offer craft & business workshops. Enjoy small break-out sessions & personal attention. Topics include place, character, revision, marketing your book, children's literature, and more. The Carnegie Books-in-Progress Conference also offers participants the once-in-a-lifetime opportunity to pitch their book ideas to literary agents from New York City. Other optional add-ons include a pre-conference retreat on June 2 and one-on-one mini-sessions with bibliotherapist Alison Courtney.
Appalachian Heritage Writers Symposium
. June 9 - 10, 2017 Richlands, Virginia. Focus: Autobiography/Memoir, Children's, Fiction, Non-fiction, Poetry, Publishing.
Cost
: Before May 22, 2016, $60/2 days includes continental breakfasts, Saturday luncheon. Optional college credit available. After May 22, 2016, $70.
Annual Philadelphia Writers' Conference
. June 9 - 11, 2017, Philadelphia, Pennsylvania. Features workshops, contests and awards, critique and feedback sessions, and agent and editor speed dates. Autobiography/Memoir, Fiction, Horror, Journalism, Marketing, Non-fiction, Playwriting, Poetry, Publishing, Romance, Science Fiction/Fantasy, Screenwriting, Young Adult.
West Virginia Writers Conference
. June 9 - 11, 2017, Ripley, West Virginia. Author readings, contests and sharing your love of writing with others.
Mountain Heritage Literary Festival
. June 9 - 11, 2017, Cumberland Gap, TN. Events include workshops, panels, readings, concerts, lectures, open mic, and more. Some of the 2017 guest authors include Mark Powell, Pamela Duncan, Marie Manilla, Jim Minick, Pauletta Hansel, William Wollfitt, Sonja Livingston, and Amy Wright, among others. Wild Ponies, Telisha and Doug Williams, will be our musical keynote. Interesting presentations, panels, readings, music and more.
Idea to Script: Omega Institute
. June 9 - 11, 2017, Rhinebeck, NY. "Whether you're starting with a new idea or working on an adaptation, this screenwriting intensive with Pilar Alessandra takes you from the premise to the page. Learn the nuts and bolts of scriptwriting for features and television with the author of The Coffee Break Screenwriter." Cost: $330.
Colrain Poetry Manuscript Conference
. June 9 - 12, 2017, Truchas, New Mexico. The conference features evaluation and discussion of book-length and chapbook-length manuscripts with poets, editors, and publishers. The cost of the conference is $1,425, which includes lodging and meals. Using the online submission system, submit a brief bio and three to four poems.
Kachemak Bay Writers' Conference
. June 9 - 13, 2017, Homer, Alaska. Daily workshops, panel presentations, readings and craft talks. Costs: $375 ($325 early bird by 5/2). Includes luncheons, opening dinner; manuscript review $65. Post-conference workshop $400.
Get Published Conference
. June 10, 2017, Bozeman, Montana. This conference is devoted to book writing, marketing and getting published. Faculty includes experienced writers who share their methods for planning, writing and finishing their books, along with practical marketing and promotional information.
California Crime Writers Conference
. June 10 - 11, 2017: Culver City, California. Faculty: William Kent Krueger: Keynote Speaker. Hallie Ephron: Keynote Speaker. "Sisters in Crime/Los Angeles and SoCal Mystery Writers of America invite emerging and established mystery writers for a weekend of invaluable guidance, insight, and community at the 2017 California Crime Writers Conference. Whether your novel is brewing in your imagination, ready to publish, or you already have several published books under your belt, our workshops, presented by agents, editors, award-winning authors, and crime investigation professionals, are geared to elevate your mystery writing skills and foster relationships on your path to publication and beyond."
Colgate Writers' Conference
. June 11-17, 2017, Hamilton, New York. Morning craft talks & workshops. Individual consultation with workshop instructor in the afternoon. Late afternoon participant readings and talks on publishing, storytelling. Evening readings by instructors & guests. Late night social events. "Bring a story, a book in progress, some poems, or a novel, and work with us on developing narrative strategies, verse techniques, and methods of research. Members of the publishing profession will also be here to discuss marketplace tactics.
"
Application Deadline: April 21, 2017
.
Tinker Mountain Writers' Workshop
. June 11- 16, 2017, Roanoke, Virginia. The conference features workshops in poetry, fiction, and creative nonfiction, as well as craft seminars, individual conferences with faculty members, and readings. The faculty includes Fred Leebron (director), Laura Benedict, Pinckney Benedict, Sara Johnson, Barbara Jones, Jeff Kleinman, James McKean, Thorpe Moeckel, Daniel Mueller, and Martin Seay. Cost: $795.
Summer Writing Program 2017: The New Weathers
. June 11 - July 1, 2017: Boulder, CO. This is the 43rd Summer Writing Program of the Jack Kerouac School of Disembodied Poetics at Naropa University. "These are urgent days, and a new world is possible––and this world is yet worth struggling for. To face facts with creative and spirited resolve; to see through webs of ignorance and power; to witness and study, and bring a new enlivening energy to being writer and citizen; to work collaboratively; to break open categories of resistance, and creation; to write, and think rhizomatically; to keep your weather eye open, and sing out every time–––these are just some of the modes and tactics we imagine The New Weathers will require. As our beloved friend and co-founder of the Kerouac School, Allen Ginsberg says: "Well, while I'm here I'll / do the work–– / and what's the Work? / To ease the pain of living. Everything else, drunken / dumbshow."
Interlochen Writer's Retreat
. June 12 - 15, 2017, Interlochen, Michigan. The retreat features workshops in poetry, fiction, and creative nonfiction, as well as craft talks, readings, time to write, one-on-one manuscript consultations, and a dinner. The retreat also offers a practicum on June 17 that includes additional consultations, lectures, and panel discussions on publishing. The faculty includes Faculty: Novel: Mary Kay Zuravleff, Short Story: Desiree Cooper, Memoir: Mardi Jo Link, Personal Essay: Robert Vivian, Poetry: Baron Wormser, Artistic Director: Katey Schultz, Writer-in-Residence: Anne-Marie Ooman, Writer-in-Residence: Teresa Scollon. The cost of the conference is $520. There is an additional practicum. Lodging and meals are not included; lodging on campus is available for discounted rates. Registration is first come, first served.
Writing and Illustrating for Young Readers
. June 12 - 16, 2017, Sandy, Utah. Offers one-, two-, three- and five-day workshops. Morning workshops devoted to individual work; afternoon talks on market, craft, publication; chats w/ editors and agents; keynote; book signing. For those interested, specialized workshops--Boot Camp and Full-Novel classes. Single day programs as well.
Minneapolis Young Writers Workshop
. June 13 - 15, 2017, Minneapolis, Minnesota. For young writers ages 13-19. "Not only will you have the opportunity to learn from successful authors, you'll have the chance to receive feedback on your work. We believe that young adults have important stories to tell-so important that we'll place selected manuscripts on the desks of editors from major publishing houses. Does your story sparkle? Imagine an acquisitions editor from HarperCollins reading your chapters. That's how book contracts are born." Cost: $110 - $545 per workshop. Evening keynote addresses are free and open to the public. Please see deadlines for individual workshops.
The Algonkian Writer Retreat and Novel Workshop
, June 14 - 18, 2017. Algonkian Park, Virginia. "You can show us your manuscript, improve your skills, clear your head, have your work read by our writer mentors, whatever works for you, whatever helps you grow and discover your vision as a writer. You discuss with us ahead of time via the Algonkian Writer Retreat Application the goals you wish to accomplish, and we'll work with you to make it happen. Do you desire a review? A line edit? Do you wish to discuss the reality of the current fiction market, your novel project, plot and characters, or perhaps get feedback on the opening hook or a few sample chapters? Or would you simply like a relaxed and productive dialogue about your goals as a writer?"
Wesleyan Writers Conference
. June 15 - 19, 2016, Middletown, CT. The conference offers workshops in poetry, fiction, and creative nonfiction, as well as master classes, craft sessions, panel discussions, readings, lectures, and manuscript consultations with agents and editors. The program includes a choice of daily seminars focused on the novel, short story, poetry, and nonfiction (memoir, short- and long-form nonfiction, and journalism). In the afternoon and evening, speakers and panelists include novelists Amy Bloom, Rivka Galchen, Steve Almond, Honor Moore, Lis Harris, Salvatore Scibona, Hirsh Sawhney, Rob Spillman, Elissa Schappell, Sarah B. Moon, Lisa Weinert, and many others. You will meet publishers and editors from large and small presses --from Random House to Akashic, Sarabande, and Europa Editions--as well as literary agents who will offer advice and read manuscripts. Tuition is $850. The conference also offers a one-day program on June 18 for $225, which includes lunch and dinner. Lodging is available on and off campus; on-campus housing is $50 per night or $170 for four nights. A meal plan for the full conference is available for $275. Scholarships and teaching fellowships are available; submit a writing sample of any length, a letter of interest, and résumé by March 24. For general registration, submit a nonrefundable $100 deposit.
Deadline: May 26, 2017.
Chautauqua Writers' Festival
. June 15 - 18, 2017, Chautauqua, New York. The conference features workshops in poetry, fiction, and creative nonfiction, as well as readings, panel discussions, individual conferences with faculty members, open mics, and time to write. The cost of tuition is $475. The fee for lodging in the nearby Athenaeum Hotel, which includes meals, ranges from $343 for college students to $537 for a private room.
Registration deadline is May 31
.
Pacific University Master of Fine Arts in Writing Residency Writers Conference
. June 15 - 25, 2017: Forest Grove, Oregon. Writers seeking to deepen their craft and expand their professional community are invited to attend the Residency Writers Conference together with MFA students, faculty and guest speakers. Join us for 10 full days of craft talks, workshops, panels, classes, readings and more featuring some of the best minds of the literary world. This residency is a rare opportunity to engage in sustained and meaningful conversation with others who share your passion for the art of writing.
The Greater Los Angeles Writers Conference
, June 16 - 18, 2017, West Coast Writers Conferences presents a full weekend of panels, workshops and presentations by educators, noted speakers, and industry professionals focused on the craft and business of writing.
Gateway to Publishing Conference and Convention
. June 16 - 18, 2017: St. Louis, Missouri. Faculty: Jennifer Geist, Stephanie Hansen, Eileen Dryer, Angie Fox, Cynthia Graham, Ann Leckie, and still adding literary agents, publishers, and authors. Cost: Writer's Conference: SLWG Member $210; Students/Affiliated Organizations $230; Regular Registration $250; Gateway Con Masterclass $50 per class; Author Hall Rates: SLWG Members $125; Affiliated Organizations $145; Regular Registration $175.
Deadly Ink Mystery Conference
. June 16 - 18, 2017: Rockaway, New Jersey. Guest of Honor: Vicki Delany,Toastmaster: Mary Jane Maffini, Fan Guest of Honor: David Manfre. Other authors: Jack Getze, Kate Gallison, Ilene Schneider, E. F. Watkins, Roberta Rogow and more. Cost ranges from $75.00 to $250.00.
Poetry at the Frost Farm
. June 16 - 18, 2017, Derry, New Hampshire. The retreat offers workshops, readings, and one-on-one consultations for formalist poets. "Join a small community of people at the historic Robert Frost Farm learning, reading and writing formal poetry with contemporary award-winning poets. Choose your focus from a series of offerings designed to provide tools for beginning poets as well as perfect the mastery of published poets."
Kenyon Review Writers Workshops
. June 17 - July 15, 2017, Gambier, Ohio. Workshops in poetry, fiction, and nonfiction led by an accomplished faculty. Genre workshops (Fiction, Literary Nonfiction, and Poetry) are held for three hours each morning. (See individual workshops for dates.)
Institute for Young Writers
. June 17 - 25, 2017, Amherst, MA.
For high school students
. Daily workshops in poetry, fiction, & nonfiction; interactive craft sessions that include discussions & writing exercises; evening readings by faculty & writers-in-residence. Faculty: Nathan Hill, Rachel Glaser, Harryette Mullen, Paul Lisicky, Timothy Donnelly, Dara Wier, Joy Williams, Stephen Graham Jones, Sam Michel, and Dorothea Lasky. Costs: Adults: $1,550; Young Writers: $1,700; Young Writers includes 3 meals/day. Adult includes lunches, welcome & farewell dinners. Scholarships available.
The Santa Barbara Writers Conference
, June 18 – 23, 2017, Santa Barbara, Calif. "Every summer, writers in many genres from around the world gather to participate in a magical week of intensive work focused on story, voice, craft, marketing, and networking with fellow writers and publishing professionals."
Aspen Summer Words
. June 18 - 23, 2017, Aspen, Colorado. Workshops, panels, and readings in fiction and creative nonfiction, as well as opportunities to meet with agents and editors. "Aspen Summer Words is the Rocky Mountain gateway to the literary world. Recognized as one of the country's pre-eminent literary conferences, Summer Words welcomes visitors and locals alike to celebrate writing and writers in Aspen for a week each June. The exceptional faculty and awe-inspiring mountain scenery combine to make this a writing retreat like no other."
Facing It: The Poetry of Yusef Komunyakaa
. June 18 - 24, 2017: Harrisonburg, Virginia. This Furious Flower Legacy Seminar celebrates and investigates the work of Yusef Komunyakaa, whose career has been marked by creative distinction and critical acclaim. We take its title from his most famous poem, "Facing It," which is emblematic of Komunyakaa's style and known for its musicality, muscularity, and fine attention to craft. Featured Writers Include: Lauren K. Alleyne, Michael Collins, Joanne Gabbin, Erica Hunt, Meta DuEwa Jones, Ed Pavlic, Hermine Pinson, Flavia Rocha, Angela Salas. Featured poet is Yusef Komunyakaa, who will perform a public reading on June 23, 2017.
Chesapeake Writers' Conference at St. Mary's College of Maryland
. June 18 - 24, 2017: St. Mary's City, Maryland. Intensive workshops in three genres for serious writers at all levels of experience, as well as a multi-genre workshop for high schoolers. Featured Writers Include: Patricia Henley, Matt Burgess, Elizabeth Arnold, Angela Pelster-Wiebe, Matthew Henry Hall, Jerry Gabriel (director).
Clarion West Speculative Fiction Writers Workshop
. June 18 - July 18, 2017: Seattle, Washington. Every summer, Clarion West holds an intensive six-week workshop in Seattle's University District, geared to help you prepare for a professional career as a writer of speculative fiction. Each workshop is limited to 18 students, and each week features a different instructor, a highly regarded author or editor offering their unique perspective on the field. Short fiction is the workshop's focus, with an emphasis on science fiction, fantasy, and horror. Come prepared to write several new stories, to experiment and take artistic risks, and to give and receive constructive criticism.
FULL
Fine Arts Work Center Summer Workshops
(poetry, fiction, art, and creative nonfiction). June 18 - August 11, 2017, Provincetown, Massachusetts. The faculty includes Mark Adams, Dean Albarelli, Amy Arbus, Richard Baker, Donald Beal, Jill Bialosky, Sophie Cabot Black, Amy Bloom, Linda Bond, Paul Bowen, Elizabeth Bradfield, Gabrielle Calvocoressi, Tina Chang, Martha Collins, Garrard Conley, Adam Davies, Natalie Diaz, Joanne Dugan, Stephen Elliott, Lauren Ewing, Melissa Febos, Maria Flook, Angela Flournoy, Nick Flynn, Julia Glass, Rachel Eliza Griffiths, Kimiko Hahn and many more. Tuition ranges from $600 to $725.
Manhattanville College Summer Writers' Week
. June 19-23, 2017: Purchase, New York. Each day begins with a workshop, then afternoons feature craft panels and events. Evenings feature faculty readings and a keynote reader, and these evening readings are free and open to the public. For an immersive experience, housing is available on campus for workshop participants.
Minnesota Northwoods Writers Conference
. June 19 - 25, 2017, Bemidji, Minnesota. Fiction, Non-fiction, Poetry, Publishing. Faculty: Tracy K. Smith - Distinguished Visiting Writer. Elizabeth Bradfield - Poetry. Janice N. Harrington - Poetry. Ravi Howard - Fiction. Ernestine Hayes - Creative Nonfiction. Ander Monson - Creative Nonfiction.
Registration deadline: May 1.
Rust/Resistance: Works of Recovery, 2017 ASLE Biennial Conferenc
e. June 20-24, 2017: Detroit, Michigan. A conference for environmental literature. Special panels and presentations, including one on water + activism in Detroit, a special ASLE-Grant funded walking tour panel, "Articulating Detroit," and a presentation by the 2015 and 2016 Community Grant winners on their projects.
Western Writers of America Convention
. June 21-24, 2017, Cheyenne, Wyoming. Children's, Fiction, Marketing, Non-fiction, Publishing, Young Adult. History presentations at the convention include Cats in the Old West, Border Wars/Law and Order, Mark Twain Literary Contributions, and more. Other sessions will take place related to the craft of writing, book marketing, and research sources and techniques.
Jackson Hole Writers Conference
, June 22 - 24, 2017, Jackson Hole, WY. You will have ample opportunity to share your work with a distinguished faculty as well as writers from Massachusetts to Florida, from Texas to Washington.Serious writers pour into Jackson Hole each June looking for a fresh, but critical eye on their work. This event usually has at least 4 agents to pitch.
David R. Collins Writers' Conference
. June 22 - 24, 2017: Davenport, Iowa. Develop your writing working with award-winning authors in a variety of genres, and get publishing tips, one-on-one critiques, and pitch a manuscript. "Each workshop is 4.5 hours over three days, 1.5 hours per day. We will be offering five workshops in 2017, including: poetry; nonfiction/memoir; short fiction; the novel; and finding and keeping an agent. We also have a faculty reading followed by an open mic for participants; pitch sessions for writers to present manuscripts to an agent and an independent press; one-on-one manuscript critiques; an author luncheon; and a featured speaker TBA."
7th Historical Novel Society North American Conference
. June 22 - 24, 2017: Portland, Oregon. Guests of Honor: Geraldine Brooks, David Ebershoff Pre-Conference Presenters: Gillian Bagwell, David Blixt, Gordon E. Fry, Kate Forsyth, Heather Webb. Registration $475 (members), $550 (nonmembers) includes welcome reception, two breakfasts and lunches, and Saturday evening banquet.
DRC Conference Faculty & Workshops
. June 22 - 24, 2017, Davenport, Iowa. Daily workshops, critiques, pitches, evening events, keynote. With five three-day workshops, book pitches with a publisher and an agent, author luncheon, concluding luncheon, free evening faculty reading and keynote address, there's something for everyone! Register before June 15th to receive the early bird discount.
Algonkian Writer Conference–New York City Pitch
. June 22 - 25, 2017, Ripley-Grier Studios in New York City. The conference offers workshops on writing and selling fiction and creative nonfiction manuscripts, as well as agent pitch sessions. The faculty includes Brendan Deneen, Robert Olen Butler, Kimberley Cameron, Lyssa Keusch, Robert Bausch, Michael Neff, Tina Wexler, Jackie Cantor, Susan Breen, Caitlin Alexander, Michael Braff, Paula Munier and more. The registration fee until June 15, 2017 is $795.00, and $895.00 after that date. This fee covers all conference pitch sessions and workshops.
In Your Write Mind Workshop
. June 22 - 25, 2016, Greensburg, Pennsylvania. Workshops on writing, editing & pitching; guest speaker presentations. "The 2017 In Your Write Mind workshop is hosted by the Writing Popular Fiction program alumni at Seton Hill University in Greensburg, PA. The genre fiction workshop is a unique opportunity for writers to gather together on the beautiful campus in southwestern Pennsylvania and learn from publishing industry professionals and participate in fiction-writing craft sessions. The publishing industry guests will be available for pitch sessions, lead workshops and participate in a panel discussion for Q&A about the publishing world. The workshop planners are hosting social events after the daily program, including a book signing and reading event at the Seton Hill Performing Arts Center, and a costume ball where workshop attendees are free to dress up in "International Persons of Mystery"-themed costumes."
Chuckanut Writers Conference
. June 23 - 24, 2017. Bellingham, Washington. Writers conference that includes speakers, panels, breakout sessions, authors' readings, reception with authors, pitch sessions with literary agents, book signings, open mic for attendees. Autobiography/Memoir, Children's, Fiction, Nature, Non-fiction, Poetry, Publishing.
Annual Conference on Creative Writing at Pacific
. June 23 –25, 2017, Stockton, California. Autobiography/Memoir, Fiction, Humor, Journalism, Marketing, Mystery, Non-fiction, Poetry, Publishing, Romance, Science Fiction/Fantasy. Agents and editors will be available for pitch
sessions.
Cascade Writers Critique and Pitches
. June 23 –25, 2017, Tacoma, WA. Milford-Style critiques, agent pitches and query information, panels on writing, editing, self-publishing, and more. "Join us for our three-day event this June with editors and/or publishers Neil Clarke, Patrick Swenson, and Jaym Gates, agent Michael Carr, and authors Carol Berg, Eva Elasigue, John (J.A.) Pitts, Spencer Ellsworth, Liz Coleman, and Ken Scholes!"
Chicago Writing Workshop
. June 24, 2017, Chicago, IL. "This is a special one-day "How to Get Published" writing workshop on Saturday, May 14, 2016, at the historic Congress Plaza Hotel, just south of the downtown area. In other words, it's one day full of classes and advice designed to give you the best instruction concerning how to get your writing & books published. We'll discuss your publishing opportunities today, how to write queries & pitches, how to market yourself and your books, what makes an agent/editor stop reading your manuscript, and more. No matter what you're writing — fiction or nonfiction — the day's classes will help point you in the right direction. Writers of all genres are welcome." Features over two dozen attending agents.
Publish & Promote Your Book Conference
. June 24, 2017, Bronxville, New York. "If you're ready to find an agent and present your book to the marketplace, come join our community of educators, writers, agents, editors, and publishers at a one day conference designed to help you succeed in your publishing ventures."
Shore Thing Writing Getaway: A One Day Retreat for Poets and Writers
. June 24, 2017, Atlantic City, NJ. "Join us for this boardwalk-inspired getaway, designed for writers of fiction, creative nonfiction and poetry. Trigger your imagination and compose new work that will surprise and please you. Spend the day immersed in the literary life: discussing writing, doing your own writing and sharing some of your new drafts." Faculty: Peter E. Murphy. Cost: $80.
Community of Writers at Squaw Valley: Poetry Workshop
. June 24 - July 1, 2017: Olympic Valley, California. "We work together to create an atmosphere in which everyone might feel free to try anything. In the mornings we meet in workshops to read to each other the work of the previous twenty-four hours; each participant also has an opportunity to work with each staff poet. In the late afternoons we gather for a conversation about some aspect of craft. On several afternoons staff poets hold brief individual conferences."
Registration deadline: March 28, 2017
.
The Writers' League of Texas Agents & Editors Conference
. June 30 – July 2, 2017, Austin, Tex. The conference features panels, lectures, networking opportunities, and receptions. Individual manuscript consultations with agents or editors are available. Confirmed Agencies for 2017: Abrams Artists Agency, Aevitas Creative Management, Ayeshe Pande Literary, Curtis Brown Ltd, Empire Literary, Falkin Literary, Folio Literary Management, Fuse Literary, ICM Partners, Pippin Properties, The Aaron M. Priest Literary Agency, Regal Hoffman and Associates, Tessler Literary Agency, Serendipity Literary Services, Trident Media Group, and Wolf Literary Services. The cost of the conference is $399/WLT Members, $459/Non-Members.