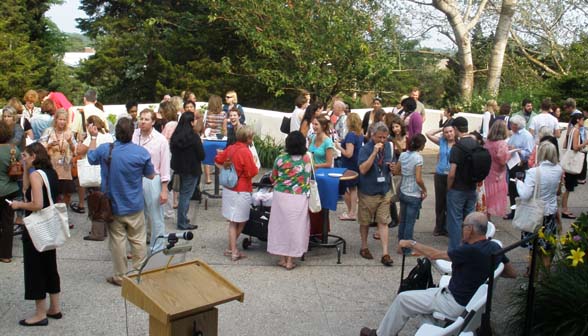 ​
I've said it before, and I will say it again - conferences are not only the best way to meet agents, get tips from other writers, and learn about the publishing industry, they make you feel like a
writer
. We all need community, and this is how we, as writers, get the necessary incentive to keep writing.
If you miss your perfect conference this year, you may be able to catch it next year. Many conferences are annual events. Planning ahead may also lower the cost, as quite a few conferences offer scholarships and discounts for early bird registrations. (Note: I include conferences that are sold out so you can plan ahead for next year!)
For a full list of conferences organized by month, as well as links for finding local conferences, see:
Writing Conferences
________________________
Idyllwild Arts Summer Program Writers Week
. July 3 - 7, 2017, Idyllwild, California. Workshops, craft talks, readings, and one-on-one consultations in poetry, fiction, and creative nonfiction. "For decades Idyllwild Arts has been a gathering place for some of the world's finest poets and writers - among them Ray Bradbury, Norman Corwin, Lucille Clifton, Sharon Olds, Maxine Kumin, Billy Collins, Ted Kooser, Philip Levine, Luis J. Rodriguez, David St. John and Natasha Trethewey. That fine tradition continues with our second annual Writers Week, a gathering of talented writers from Idyllwild Arts and beyond."
Society of Children's Book Writers & Illustrators Annual Conference
. July 7 - 10, 2017, Los Angeles, California. More than 100 writers, editors, illustrators, & agents. Workshops, breakout sessions, manuscript and portfolio consultations, panels, discussions.
North Carolina Writers' Network Squire Summer Writing Residency
. July 13 - 16, 2017, Charlotte, North Carolina. The conference features workshops in poetry, fiction, and creative nonfiction, as well as a presentation and readings. The faculty includes poet Morri Creech, fiction writer Sarah Creech, and creative nonfiction writer Cynthia Lewis. The cost of the residency is $650 ($550 for NCWN members), which includes tuition and shared lodging; the cost is $550 ($400 for NCWN members) for commuters.
The Cleveland Writing Workshop
. July 8, 2017, Cleveland, OH. A full-day "How to Get Published" writers conference. "One day full of classes and advice designed to give you the best instruction concerning how to get your writing & books published. We'll discuss your publishing opportunities today, how to write queries & pitches, how to market yourself and your books, what makes an agent/editor stop reading your manuscript, and more. No matter what you're writing — fiction or nonfiction — the day's classes will help point you in the right direction. Writers of all genres are welcome." Attending agents: Kimiko Nakamura (Dee Mura Literary); Moe Ferrera (BookEnds); Mallory Brown (TriadaUS); Vicki Selvaggio (Jennifer De Chiara Literary); Kaylee Davis (Dee Mura Literary); and Fred Tribuzzo (The Rudy Agency).
Antioch Writers' Workshop
. July 8 - 14, 2017, Yellow Springs, Ohio. Featuring Keynoter and Sunday Morning Craft Class Instructor, John Scalzi. John is an American science fiction author, online writer, and former president of the Science Fiction and Fantasy Writers of America. Morning classes and afternoon seminars in fiction, creative nonfiction, and poetry for all levels of writers--beginning to advanced. The workshop includes opportunities to give readings, receive professional critiques, interact with faculty, and meet with a visiting agent.
Martha's Vineyard Institute of Creative Writing Summer Seminar
. July 9 - 15 and 16 - 22, 2017, Martha's Vineyard, Massachusetts. Workshops in poetry and fiction, one-on-one manuscript consultations, panel discussions, and readings.
Frost Place Conference on Poetry
. July 9 - 15, 2017: Franconia, NH. Spend a week at "intensive poetry camp" with writers who are deeply committed to learning more about the craft of writing poetry. The Frost Place Poetry Conference offers daily workshops, classes, lectures, writing and revising time in a supportive and dynamic environment.
Application Deadline:
June 1, 2017.
Young Writers Workshop
. July 9 - 29, 2017, Great Barrington, Massachusetts. Restrictions: For students completing grades 9, 10, 11. Three 90-minute workshop sessions daily, including imaginative writing activities and discussion of readings. Weekly individual meetings with workshop instructor. Focus is on using various forms of creative writing to develop language and thinking skills.
Stonecoast Writers' Conference
. July 10 - 15, 2017, Portland, ME. Workshops in poetry, short fiction, novel, and nonfiction/memoir, and a mixed-genre Creative Writing Bootcamp. The Stonecoast Writers' Conference is open to students of all experience levels. However, admission is selective. Writing sample and deposit required.
Summer Fishtrap Gathering of Writers
. July 10 - 16, 2017: Wallowa Lake, Oregon. Workshops in poetry, fiction, and creative nonfiction, as well as panel discussions, readings, and open mics. "Held each July at Wallowa Lake in northeast Oregon, Summer Fishtrap gathers writers for a week of inspired writing workshops and culminates with a weekend of passionate discussion on a key issue facing the West." Faculty: Kim Stafford, Anis Mojgani, Scott Russell Sanders, Cameron Scott, Naomi Shihab Nye, Luis Alberto Urrea, and more to be announced. Cost: $795.
Tin House Summer Workshop
. July 10-17, 2016, Portland, Oregon. Workshops with afternoon craft seminars and career panels. Evenings are reserved for author readings and revelry. Tin House editors and guest agents are available to meet individually with students throughout the week. Faculty: Aimee Bender, Natalie Diaz, Anthony Doerr, Danielle Evans, Joshua Ferris, Renee Gladman, Manuel Gonzales, James Hannaham, Naomi Jackson Mat Johnson, Kelly Link, Paul Lisicky, Morgan Parker Roger Reeves, Mary Ruefle, Karen Shepard, Jim Shepard, Claire Waye Watkins, and more. Cost: $1200.
Application deadline: May 1, 2017
.
ThrillerFest XII
. July 11–15, 2017, New York City. This is the annual conference of the International Thriller Writers. The ThrillerFest conference has four main components: Master CraftFest, CraftFest, PitchFest, and ThrillerFest. Master CraftFest was designed as an educational tool for aspiring writers as well as debut and midlist authors to gain advanced training from the masters of the craft in an intimate, day-long training session. CraftFest was designed for all writers to learn from bestselling authors and subject experts who kindly offer their advice and assistance to advance attendees' writing techniques and further their careers. PitchFest was designed to match writers with agents, editors, publishers, and producers. ThrillerFest, the final two days of the conference, is intended to offer readers a chance to meet the best authors in the industry and be introduced to debut and midlist authors. Expect innovative panels, spotlight interviews, and workshops to educate and inspire.
Oregon Coast Children's Book Writers Workshop
.
Canceled for 2017. Will return in 2018.
July 11 - 15, 2016, Oceanside, Oregon. An intensive workshop for those who are not only passionate about children's book writing, but who dream of publishing their own children's books. Getting attendees published is the end goal. The instructors are five professional children's book authors, two children's book editors from major publishing houses, and a full-time children's book agent. Students can have at least one major manuscript consult per day, and possibly more.
Southampton Writers Conference
. July 12–23, 2017, Long Island, NY. The conference features workshops in poetry, fiction, nonfiction, and publishing, as well as readings, lectures, and a master class series. Creative writing workshops are the heart and soul of the summer experience, meeting four afternoons or mornings throughout the session. Enrollment is limited to 13 lucky writers who have applied with writing samples. Those accepted have the privilege of sharing their work in an intimate, rigorous and friendly setting. Workshop Applications: Rolling admission after April 1, where space available.
Green River Writers Workshops:Turning Memory into Story: Memoir Writing Workshop
. July 13 - 16, 2017, Las Vegas, New Mexico. Using memory as a starting point, Green River Writers Workshops focus on the craft of storytelling through memoir, fiction, historical writing, and poetry. Both experienced and beginning writers are welcome.
Saskatchewan Festival of Words
. July 13 - 16, 2017, Moose Jaw, Canada. Over the 4 days of the festival there are workshops for all ages, reading sessions, concerts, film, panel discussions, interviews, music, theatre, a slam poetry competition as well as workshops and author readings.
Write Time Black Writers Retreat
. July 14 - 16, 2017, Palm Springs, California. "Designed for fiction and nonfiction writers and set amidst tranquil mountains surrounding an invigorating desert oasis, this affordable workshop will inspire and enlighten you. Head home with clearer direction and progress on your writing, energized from spending time with a community of dedicated writers, immersed in the literary life."
Registration deadline: June 20
.
The Gathering
. July 14 - 16, 2017, La Plume, Pennsylvania. Workshops in poetry, fiction, and creative nonfiction, as well as lectures and performances. "Each year The Gathering is structured around a theme that relates everyday experiences to broader issues. The purpose of The Gathering is to promote understanding and empathy to bridge cultural, social, and economic gaps. Lecturers include authors, poets, scientists, philosophers, musicians, performers, and artists who help shape contemporary thought in their field. A reading list gets us thinking ahead of time about the issues we'll be immersed in at The Gathering. Our presenters have included Salman Rushdie, Gregory Maguire, Billy Collins, Ted Kooser, Diane Ackerman, Chris Abani, Susan Jacoby, Katherine Paterson, Peter Bohlin, Nancy Willard, Victor Navasky, Sandy Tolan, and many others. Their availability for conversation during meals and breaks and at social gatherings offers important opportunities for participants to gain new insights into the speakers' work."
The Summer Writers Institute
. July 14 - 28, 2017, St. Louis, Missouri. The Washington University Summer Writers Institute is an intensive, two-week program featuring workshops in fiction, micro fiction, modern humor, personal narrative, playwriting, and poetry, as well as reading and individual conferences with instructors. Adult writers of all levels of experience work together with published authors and exceptional teachers in a supportive, non-competitive format that allows for personalized attention and constructive feedback.
All Write Now! Writers' Conference
. July 15 - 16, 2017, Cape Girardeau, Missouri. A one day writers conference with workshops, pitches, in-person critique sessions, Slush Pile, contests, bookstore, lunch and prizes. One day of master classes.
Port Townsend Writers' Conference
. July 16 - 23, 2017, Port Townsend, Washington. workshops in poetry, fiction, and creative nonfiction, as well as craft lectures, readings, open mics, and time to write. "The Port Townsend Writers' Conference has been since 1974 at the wild heart of the thriving Pacific Northwest literary scene. With a focus on community and rigorous attention to craft, the Conference offers morning workshops, afternoon workshops, residencies, guided freewrites, and a vibrant readings and lectures series presented by vital, contemporary writers."
Sewanee Writers' Conference
. July 18-30, 2017: Sewanee, TN. Faculty will give readings and provide instruction and criticism through workshops and craft lectures, as well as meet individually with participants to discuss their manuscripts. The Conference will offer five fiction workshops, four poetry workshops, and a playwriting workshop supported by two professional actors. In addition, a substantial number of literary agents will attend.
Deadline: April 17, 2017
.
Writing the Rockies
. July 19 - 23, 2017: Gunnison, Colorado. Workshops, readings, panels, seminars and other events in poetry, genre fiction, screenwriting and publishing. One-to-one visits with faculty for critiques & pitches. Sponsored by Graduate Program in Creative Writing, Western State Colorado University.
Midwest Writers Workshop
. July 20 - 22, 2017, Muncie, Indiana. Craft and business sessions, agent pitches, manuscript evaluations. MWW includes quality instruction by a faculty of authors, agents, editors, and specialists.
Fresh Water, Fresh Voices Writing Conference
. July 20 - 23, 2017: Marquette, MI. Features writing workshops with talented published authors in tandem with outdoor activities including hiking, kayaking, canoeing, rock climbing, and biking. Half of each day will be spent in workshops and craft talks, and the other half in guided group outings on the trails and lake. Evenings will be spent listening to readings and communing with writers over dinner and cocktails. Workshops will be led by outstanding published writers including Pam Houston, Diane Les Becquets, Frank X Walker, Mark Sundeen, Nicole Walker, Peter Geye, Kimberly Blaeser, and others.
PNWA Conference
. July 20 - 23, 2017, Seattle, Washington, Sponsored by the Pacific Northwest Writers Association. More than 50 seminars, editor/agent forums & appointments, practice pitching, keynote and featured speakers, reception, awards ceremony. Many agents and editors attending.
Mayborn Literary Nonfiction Conference
. July 21 - 23, 2017, Grapevine, Texas. The Mayborn Literary Nonfiction Conference is a forum for journalists, writers, readers, students, educators and the general public to listen to, be inspired by and practice their craft at the highest possible level. Every year, the Mayborn Conference gathers some of the most talented storytellers in the country to share their stories, life-changing experiences and expertise with aspiring writers through three days of lectures, panels, one-on-one sessions, and student classes. In addition, the conference includes a variety of writing contests for anyone from high school students to Pulitzer prize winning professionals, who receive hand-made trophies, more than $26,000 in cash awards and have their work published in Mayborn's journal, Ten Spurs, or anthology, Best American Newspaper Narratives.
Gemini Ink Writers Conference
. July 21 - 23, 2017: San Antonio, Texas. In this moment of social and historic flux, Gemini Ink's Writers Conference will contemplate the role writing can play in reflecting and driving social, aesthetic and personal change. Participate in panels, roundtables, workshops, and readings. Engage in dynamic conversations on writing as an agent for change.
Tennessee Writers Conference
. July 22, 2017, Nashville, TN. This is a full-day "How to Get Published" writing event. This event is designed to squeeze as much into one day of learning as possible. You can ask any questions you like during the classes, and get your specific concerns addressed. Attending agents: Lauren MacLeod (The Strothman Agency), Mark Gottlieb (Trident Media Group), Kimberly Brower (Brower Literary & Management), Elizabeth Copps (Maria Carvainis Agency, Inc.), Beth Phelan (The Bent Agency), Greg Daniel (Daniel Literary Group), Julie Gwinn (The Seymour Agency), Michael Caligaris (Holloway Literary Agency), Alice Speilburg (Speilburg Literary), Cate Hart (Corvisiero Literary), Laura Crockett (Triada US Literary), Lesley Sabga (The Seymour Agency), and more.
Napa Valley Writers' Conference
. July 23 - July 28, 2017, St. Helena, California. Workshops in poetry and fiction, craft lectures, panels, and evening readings with wine receptions at venues around Napa Valley. Faculty in poetry, Eavan Boland, Jane Hirshfield, Ada Limón, and Matthew Zapruder; in fiction, Lan Samantha Chang, Peter Ho Davies, Daniel Orozco, and ZZ Packer.
Green Mountain Writers Conference
. July 24 - 28, 2017, Chittenden, Vermont. The program features workshops in poetry, fiction, and creative nonfiction, as well as one-on-one consultations, lectures, publishing discussions, and readings. The faculty includes Yvonne Daley, Elizabeth Innes-Brown, Justen Ahren , Major Jackson, Chuck Clarino, Verandah Porche, Patty Carpenter and Elizabeth Rosner.
Romance Writers of America
. July 26-29, 2017, Orlando, Florida. The RWA Conference is the place where career-focused romance writers meet, mingle, and get down to the business of being an author. RWA2017 Conference highlights include the "Readers for Life" Literacy Autographing; the Keynote speech; hearing from great speakers; book signings; and the Awards Ceremony. At the conference, career-focused romance writers can anticipate: education and information, networking with fellow writers, interaction with editors, agents, publishers, booksellers, and other romance publishing industry professionals.
Bookstock Literary Festival
. July 28 - July 30, 2017: Woodstock, Vermont.
From Poets & Writers
: "The festival features workshops, readings, discussions, and a book fair for poets, fiction writers, and creative nonfiction writers. Participating writers include poets Benjamin Aleshire, Laura Foley, Pamela Harrison, April Ossmann, and Elizabeth Powell; fiction writers Jean Hanff Korenlitz and Roland Merullo; and nonfiction writers Jabari Asim, Bruce Coffin, and Sarah Prager. All events and workshops are free and open to the public."
When the Political Becomes Personal
. July 29, 2017: Hammonton, NJ. "Are you eager to contribute to the political conversation? Take advantage of our supportive atmosphere as a safe space to write a provocative personal essay worthy of submitting to the Op-Ed editors of major publications. Whether you lean left or right—or stand smack dab in the middle—this invigorating workshop will help you transform your fiery arguments into an eloquent and persuasive, thought-provoking piece."
Pennsylvania Writers Conference
. July 30 - August 5, 2017: Wilkes-Barre, Pennsylvania. PWC includes workshops in creative nonfiction, fiction, poetry, and screenwriting. The conference will offer pitch sessions with agents, as well as certificate programs in publishing and arts advocacy and education.
Marlboro Summer Writing Intensive
. July 30 - August 5, 2017: Marlboro, VT. Over the course of seven days, you will join a group of writers—professional writers, professors and other students interested in honing their craft. You will participate in workshops during the day, and in the evenings you will write, talk and connect with other writers. You will live in a dorm on Marlboro's beautiful southern Vermont campus in the company of other program participants. Meals are included and served in the dormitory.